Mobile Website
For many businesses, mobile websites are as important as normal sites as many potential customers are shifting to using smartphones and other devices to accessing information on the internet.
The Top Content CMS can be used for mobile websites in the same way it is for normal websites. Many of our bespoke level clients use our CMS for both their normal and mobile site. When the CMS is used in this way, content only needs to be entered once in order to update both the mobile and normal site.
However, there have been some cases in which Top Content has been used for a mobile website only.
Below are examples of how some mobile websites appear on mobile phones.
Diamond Football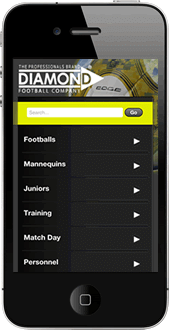 Enquire Now